Alaska Railway

Great Alaskan Railtours

| | | |
| --- | --- | --- |
| | | Information & Reservations |




Experiencing Talkeetna in the Winter is truly and experience that differs from that of summer. Often we have more snow than the cities of Anchorage and Wasilla! There is a thick blanket of snow, which may cover the ground from late September until early May, that emphasizes an almost otherworldly stillness here in Talkeetna. The noise of people and traffic are a memory and many locals like to say they 'get their town back' during this time as the natural peace and beauty of Alaska shines through during the brief daylight hours. There are many unique things that can only be witnessed or experienced during this time.

Saturday: Ride the Aurora Winter Train from Anchorage to Talkeetna - a quaint town known for unparalleled views of Mt. McKinley and the Aurora Borealis.

Enjoy a relaxing overnight retreat at the Talkeenta Cabins. Winter activities are endless!
- Bring your snowshoes or crosscountry skis, opt to take a breathtaking flightseeing tour over Mt. McKinley, or spend the night taking in a show of the Northern Lights. Or explore the town that inspired 'Northern Exposure'- The core downtown area is classified as a National historic site, with buildings dating from the early 1900s including Nagley's General Store, Fairview Inn, and the Talkeetna Roadhouse. There are many 'made in Alaska' products from local artists, musicians, and craftspeople that are sold in the local shops adding to the authentic feel of the town.

Sunday: Return to Anchorage on the southbound Aurora Winter train.



Includes: Roundtrip rail from Anchorage toTalkeetna, plus an overnight stay in Talkeetna.

Weekly departures

September 19, 2015 through May 7, 2016

Occupancy

Price

Single

Please Call

Double

$229 per person

All prices per person based on occupancy and are subject to change without notice

Information & Reservations
1-800-717-0108 or 503-292-5055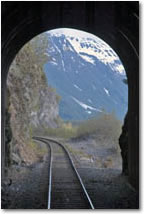 Experience the rugged interior, cruise amongst glaciers, and enjoy some of the best wildlife viewing in North America aboard Alaska Railroad.
Lock in your Alaska adventure today to ensure finding space, as the train and lodges often book up early.